How long does it take to make a traditional Ethiopian handmade textile product?
Sabahar unravels this question for you: The company's products are made in the age-old tradition of community creation. More than ten artisans work on different components of each article.
The skills to produce handmade textiles are passed down through the generations. These traditions are in danger of disappearing as modernized techniques and mass consumption takes hold. "At Sabahar, we want to honor and maintain traditional craftsmanship for as long as sensibly possible", says Kathy Marshall, founder and owner of Sabahar.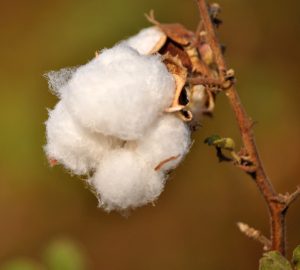 Sabahar uses cotton grown in Ethiopia. The main area of cotton production is the Awash valley, though it is also grown in Gambella, Humera, Metema and in the south (Arba Minch). A significant percentage is a rain-fed production by local farmers on small plots, while some is grown in larger, industrialized farms. Unfortunately, there is no organic certification system in Ethiopia, so we cannot say that our cotton is organic.  Sabahar had been previously purchasing semi-processed, unspun cotton from a trading company in Addis, however, starting early 2021 we are now proudly purchasing from a ginnery close to Arba Minch. The quality of this new cotton quite significant. Machine-spun cotton thread from spinning mills, mainly the Adama Spinning Factory in Adama, is also used.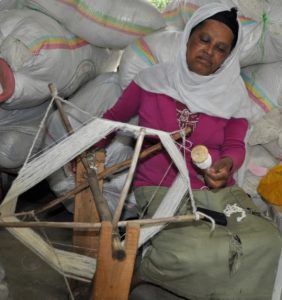 The carded, unspun cotton is distributed to women in various areas of  Addis Ababa who spin thread using a drop spindle. We now work with over 80 women spinning cotton in their own homes.  The skill of hand-spinning cotton is passed down through generations from mother to daughter – usually as an income-generating activity when there is time. It takes approximately eight hours to spin the thread to produce a single beach towel.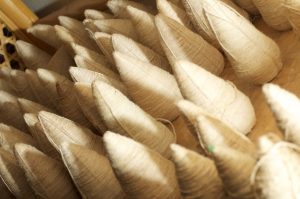 The small cone of cotton which is produced on the drop spindle is converted to a hank using simple winding tools made from wood and recycled tires so that it can be dyed. It takes one hour to transfer the cotton for each beach towel from cone to hank.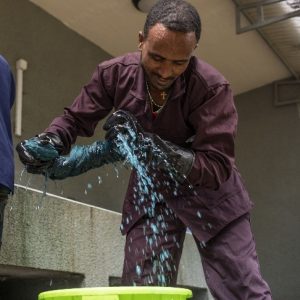 Our dyeing process is also labour intensive. The thread is first scoured, meaning it is boiled with some soda bicarbonate, in order to remove any impurities. After thorough washing, the thread is placed into the dye pot with very specific time and temperature requirements.  After the color has been absorbed, the hanks are rinsed in hot and cold water, and then hung on lines in the Sabahar garden.  It takes about three hours to dye the threads for each color.  The amount of time will depend on the number of colors in the product. Each pot can take up to two kilograms of thread while our largest dye machine can hold 10 kilograms of thread at one time.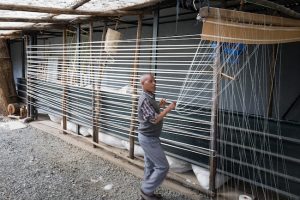 Once dyed, the art of weaving comes next. Measuring the thread for the warp is a critical first step. Warpers need to calculate the number of threads required for a specific product and the length each thread needs to be according to the number of products to be woven. It takes about 6 hours to measure and prepare a 50-meter warp that is 100cm wide. The weaver then meticulously ties all the threads onto the loom. This can take a full day, depending on the intricacy of the tie-up and the size of the loom. Each warp thread is tied onto a thread left before on the loom. On average, a weaver will tie 1,300 individual knots to prepare the warp for weaving.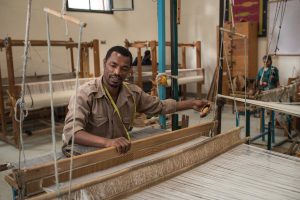 Now that the warp is ready, the weaver can go to work. All but one of our weavers are men as this skill is traditionally passed down from father to son. The time it takes for a weaver to produce an item varies greatly. The more intricate the design, the longer it will take, especially when there are dots, geometrical shapes or dashes. The weaving time also depends on the thickness of the weft: our sheer shawls are much more time consuming to produce than the thicker, hand-spun cotton towels. The weaving speed also is dependent on the availability and speed of the assistant winders. These are women who transfer the thread on the hank into bobbins for the weavers to use. It takes a woman about an hour to transfer thread from hank to bobbin for one beach towel. On average, a weaver will take four hours to weave a beach towel.
Once woven, the towel is then fringed. Each fringe is done by hand by rolling the warp threads together to make a type of braid. About two hours are taken to twist and knot all of the fringes on a towel.
For a final touch, the towel is then washed and air-dried in the Sabahar garden.  Once dry, it is pressed through our large ironing machine before going to the finishing department. There, any small extra threads are removed, all the fringes are cut so they are uniform, a label is sewn by hand and it is folded and ready to be exported. This final phase is also where we scrutinize each piece to ensure it is sales-worthy. This finishing process will take at least another two o´hours per towel.
"Each Sabahar product is lovingly crafted by more than 10 different artisans. This is the true nature of handmade products. A labor of love by an entire community of dedicated, skilled craftspeople. The next time you use your towel as a beach throw, picnic blanket, shawl or baby blanket, we hope you may be able to sense the soul of the product, the souls of all those who helped produce it, here in Ethiopia", says Kathy Marshall, Founder and Owner.
Main photo: ITC / Yonas Tadesse
Photos in text: Sabahar