From RAGS to GARMENTS
ETUR specialises in the production of recycled fibres, yarns and knits - everything under one roof, resource-saving and without burdening the environment.
ETUR Textile PLC is a Turkish-run family business in Adama, Ethiopia. The company's recycling activity from fibre to fashion is unique in the whole of Africa. Gesamtmasche has visited the company to learn more about its way of working and product range.
As a subsidiary of the Turkish Yüksel Group, ETUR has been producing in Ethiopia since 2010. With its 344 employees, the company recycles about 6,000 tons of cutting waste and about 1,000 tons of spinning waste per year – waste from Ethiopian textile production, mostly cotton or polyester, which would otherwise be disposed of as garbage. By recycling raw materials, the company can save almost 30 million cubic meters of water and 300,000 Kwh of electricity each year. If possible, dyeing is dispensed with: cut residues are processed in batches into new fibres, spun, knitted and assembled. For reorders, customers must therefore be prepared for color deviations. Alternatively, ETUR can have a salary dyed in a certified company in the neighborhood.
"We do not use chemicals or dyes for our manufacturing process from start to finish."
Osman Basoglu, who runs the business together with his uncle, is proud of the sustainability of his production. The capacity is theoretically 65 tonnes per day. However, the company does not receive enough material and yarn residues from other companies. On average, 45 percent of new fibers are used – cotton, polyester and acrylic. For coarser qualities, the use of new fibres can be reduced to 10 percent. Recycled yarns and mesh fabrics as well as finished goods such as sweatshirts, hoodies, nightwear, T-shirts, polo shirts and tights are marketed.
"Of course, our process is more complex overall than when using new fibers. For example, we need special carding devices," says Osman Basoglu. "That's why we are more expensive than the competition. A basic T-shirt costs about 2.25 US dollars. For this purpose, we are certified according to the Global Recycling Standard and bscI, produce sustainably and 100 percent transparently. In our yarns we reach intricacies up to Nm 50/1."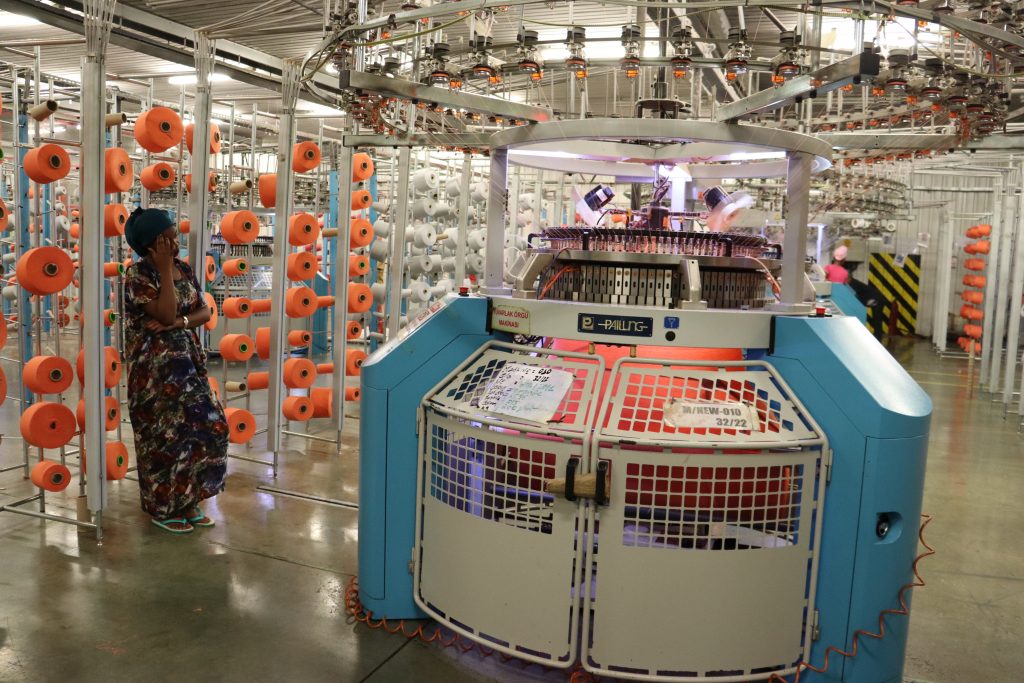 European customers such as Mistral or G-Star are taking in larger quantities, but do not grant a real "eco-bonus". Like all manufacturers in Ethiopia, ETUR is struggling with difficult access to foreign exchange and bureaucratic arbitrariness. At ETUR, however, one remains aware of corporate responsibility. Thanks to financial support for a pipeline system, water is now distributed to 14 municipalities. ETUR has also scored points with a generous renovation grant for the local Orthodox church building. "Afterwards, of course, we also had to donate to the Muslim community for their mosque," Basoglu says with a wink. And again more seriously: "Social commitment spares us from the fact that political and ethnic conflicts are carried into our company."
↘ The ETUR company presentation can be retrieved from Gesamtmasche.