Cotton Yarn in Ethiopia: A Fact Finding tour
Several German companies have already expressed interest to source yarn in Ethiopia. A traditional textile pre-product in standard qualities can open the door to further exports.
To learn more about the state of play in Ethiopian cotton yarn manufacturing, Gesamtmasche has visited a number of yarn producers, some of them acitve also in further processing steps like weaving, knitting, finishing and making up:
· EDGET Yarn
· Alem Gena
· Kombolcha Spinning
· Adama Spinning
· ETUR Textile Recycling
Kombolcha – spinning, weaving and home textiles
The Kombolcha Textile Share Company (KTSC) was founded in the mid-1980s in Kombolcha (South Wollo in the Amhara region). The full-stage textile company produces 100% cotton yarn, cotton fabric, raw and bleached, dyed and printed, mainly fabrics for the home and home textiles sector for the local market.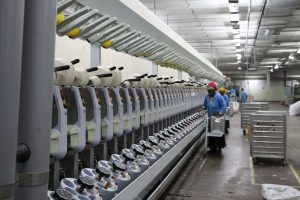 An attempt is currently being made to establish a long-term supply relationship with Ikea. For this purpose, various standards must be implemented and verified. Kombolcha is majority in state hands. The company currently has around 1,400 employees. With the help of the state, the machinery in the field of spinning and weaving was largely modernized. Open-end yarns for weaving are produced in the spinning mill.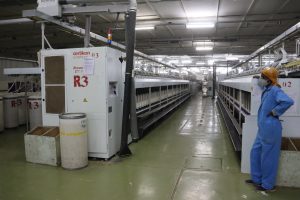 The quality of the cotton used causes problems in further processing. Finer qualities cannot be provided. One problem for export is maturities and different usages in the presentation of yarns (cone size and weight).
Adama Spinning – Fine cotton yarns for knitting
Adama manufactures ring yarns as well as OE yarns. OE yarns can be produced in extremely rationalized processes. However, corresponding subtleties, such as those required in fine knitting, are only achieved by the traditional ring spinning process. Adama used to export to various EU countries. Today, exports are still going to Turkey and China.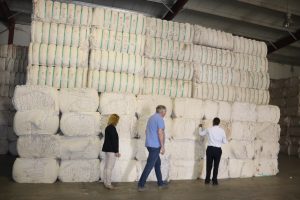 For ring yarns (5,000 spindles) Adama uses qualities from Awash and Oromo. Open End yarns (6,000) use cotton fibres from the Northwest, Morama and Benshango. There are also organic qualities. Unfortunately, according to the managing director, the cotton from Awash contains up to 8% trash. Judging by the Adama laboratory reports, this is still understated. On average, the trash rate is more likely to be 10%.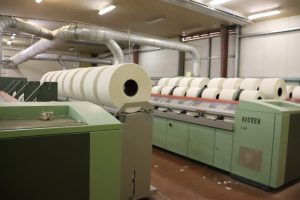 For jerseys, Adama offers various Nm30 qualities. Technically, for ring yarns, Adama is able to go up to Nm60 and above. However, this is impossible with the current fibre qualities. For 1 kg Ne 30/1 Adama charges 3.50 USD (cotton price 2020: approx. 50 Birr per kg). OE yarns are offered up to Nm24, up to Nm28 only at higher micrometres (otherwise thread breakage hazard).
EDGET Yarn & Sewing Thread S.Co.
EDGET is a medium-sized company in Addis Ababa, which currently offers cotton yarns with titres from 10 to 20 Ne. In addition to cotton yarns, EDGET also offers cotton and polyester twirles in various colours (Marzoli and Zinser machines).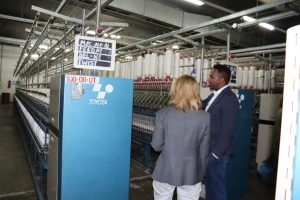 EDGET complains about the problem of poor cotton quality. Even after ginning, the cotton contains 8 to 10% waste. For this reason, EDGET has already bought its own farmland in order to be able to supply itself with cotton in the future. One reason for the poor quality is seen in the ginning plants, which cannot get spare parts or delay procurement for as long as possible – for financial reasons, because the machine supplier does not supply spare parts, or simply because there is a lack of foreign currency.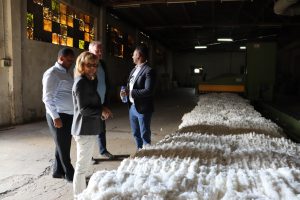 Another reason cited is the "work culture": workers and farmers would not pay attention to whether the picked cotton is contaminated with plant residues. It is paid by weight. The degree of contamination does not play a role at this stage. In part, the industry even assumes the deliberate addition of trash at the Ginnery level. Unfortunately, the amount of cotton production is falling as many farmers switch to other crops, such as sugar cane, which are more profitable.
Alem Gena – medium-sized yarn company
At Alem Gena, ring yarn qualities up to Nm40/1 can be produced. This meets the requirements for fine mesh shirts. At the moment, however, for the reason of poor cotton quality, only Nm21 is possible. These yarns are sold in the local market and processed in traditional hand weaving.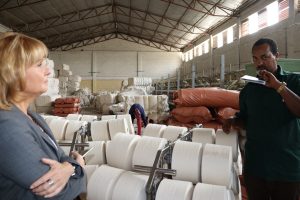 The company deplores the quality of seeds and the contamination of cotton, although this varies greatly from year to year.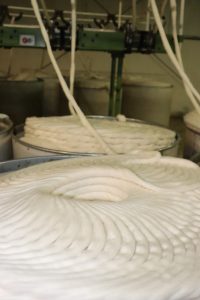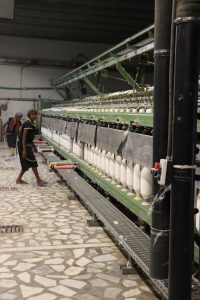 Alem Gena started production in 2012. The target quantity is 1,000 tonnes per year. However, this is not achieved since the trash content in the cotton is too high and the stack length is too short.